If so, here is a buddha bowl of comfort food for you! It's that time of year when comfort food tastes the best!
This meal is mac and cheese and crispy tofu with homemade barbeque dipping sauce. You can serve this on top of fresh spinach and with a side of steamed green beans. I've included recipes for the mac and cheese, tofu and barbecue sauce in this post.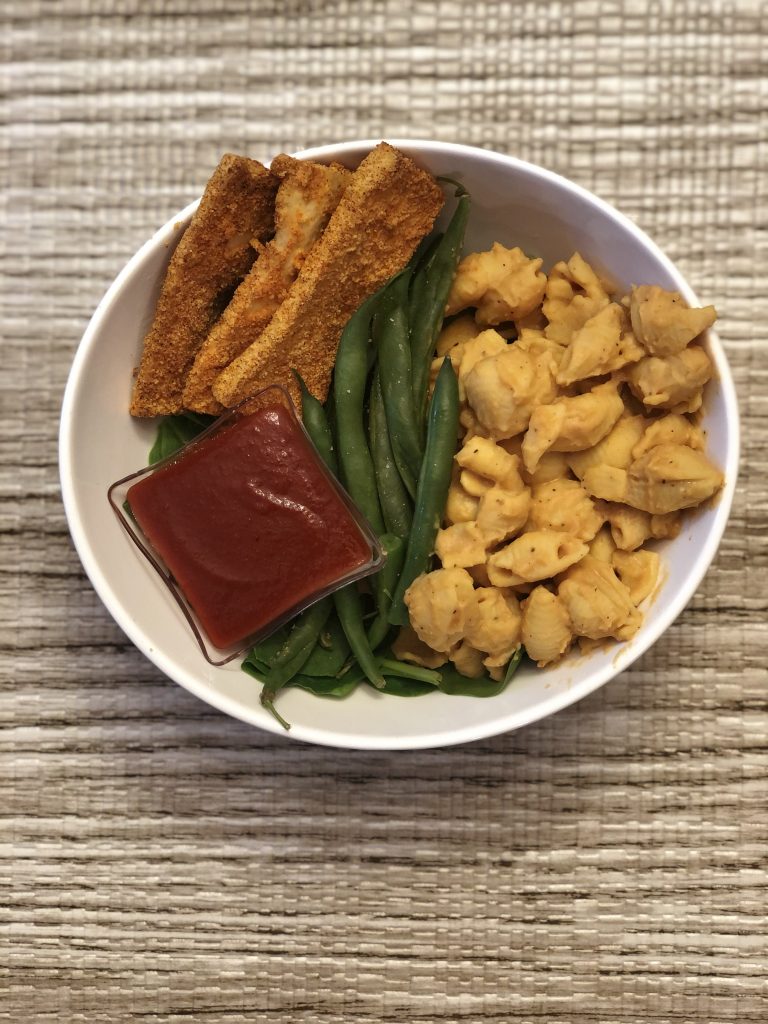 For the mac and cheese:
This looks just like cheese sauce! You could also use it on nachos!

Mix it right in the pasta pot, after you've drained the pasta.

You can add more vegetable stock if you like a thinner sauce.
Vegan Mac and Cheese
This classic comfort food is hard to live without. This recipe is Vegan and whole-food plant-based, with no oil. It's also gluten-free if you use gluten-free pasta and vegetable stock.
This makes about 6 cups.
Ingredients
1

8 oz

box of pasta, I use chickpea pasta

2

cloves of garlic, minced

1

carrot, peeled and diced

1

15 oz

can great northern beans, or any other white bean drained and rinsed

1/4

cup

nutritional yeast

3/4

cup

soy milk, you can use any other plant milk

3/4

cup

vegetable stock

salt and pepper to taste
Instructions
Cook pasta according to instructions on the package.

In a small saute pan over medium, add the garlic, beans, carrot and 1/2 cup of the vegetable stock.

Cover and simmer for 5-7 minutes, stirring ocassionly until carrots are tender.

Add the bean mixture to a food processor, along with the nutritional yeast, plant milk and 1/4 cup of the vegetable stock.

Salt and pepper to taste.

Once your pasta is drained, add back into your pasta pot.

Pour sauce over your pasta and heat over medium heat, stirring to prevent burning. You can add some more vegetable stock at this point if you like a thinner sauce.
Crispy Tofu
I make this recipe in the air fryer. If you don't have an air fryer bake at 425F on parchment-lined baking sheet for 10-15 min or until crispy. Flipping once.
This recipe make 14 pieces.
Ingredients
1

12 oz

package of extra firm tofu

2/3

cup

almond flour, or flour of your choice

1

tsp

paprika
Instructions
Slice into about 14 rectangle pieces.

Mix flour with paprika in a shallow bowl.

Coat each piece of tofu with the flour mixture.

Place all tofu pieces in the air fryer.

Cook at 350F for 20 minutes.
Barbecue Sauce
This sauce is a little bit smoky, sweet and spicy. It's vegan and whole food plant based.
Ingredients
1

15 oz

can of tomato sauce

2

tbsp

liquid aminos or soy sauce

1

tbsp

pure maple syrup

1

tbsp

onion powder

1

tbsp

garlic powder

2

tbsp

smoked paprika

1/2

tsp

cayenne pepper
Instructions
Mix all ingredients in a small bowl.

Serve or store in the fridge.
If you have any leftover mac and cheese, mix it with the plant based taco "meat" to make a taco mac bowl for lunch!