No more bacon for breakfast for me. On a whole food plant based diet, it's important to eat as many fruits and vegetables as you can in one day. I have been making oatmeal for breakfast, adding cinnamon, fruits and also raw nuts or nut butter. I also add a tablespoon of flax seed for the extra protein.
This bowl of oatmeal and yummy goodness keeps me full for a few hours. Mid morning I usually have a snack of hummus and veggies, or a piece of fruit and some raw almonds. When eating like this, you can eat so many good things and not gain weight because they are so nutritious, full of vitamins and fiber. The food you will eat keep you so satisfied that you won't want any of your old junk food.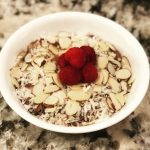 Print Recipe
Almond Joy Oatmeal
Ingredients
1/2

cup

oatmeal

1

cup

water

1

tbsp

cacao powder

1

tbsp

flaxseed

1/4

cup

sliced almonds

1/4

cup

unsweetened shredded coconut

1/4

cup

raspberries
Instructions
Prepare Oatmeal according to package instructions.

Top with Cacao powder, flaxseed, coconut, almonds.